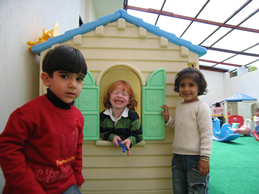 Welcome to the Ruby & Pearl Classes. This is our first experience of PreSchool and so some of us may take a little time to settle in and get used to being away from our Mummies and Daddies. Our teacher finds that by staggering the times at which we start on our first morning she is given an opportunity to meet our parents and settle each one of us in individually.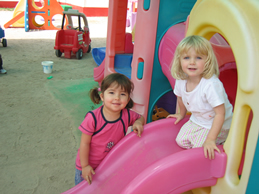 The majority of us are still wearing nappies, and both classrooms have their own bathroom and changing facilities. Our teacher says that when Mums feel that the time is right to start our toilet training, her staff will be pleased to offer any help and assistance they can. When we have all arrived at school and played with all the toys until everyone is settled in, we go outside and enjoy playing on the bikes, slides and garden toys for about 20 minutes. We also have our own shaded play area to play in when it is raining or too hot to go in the garden, and we also use this area for sand and water play.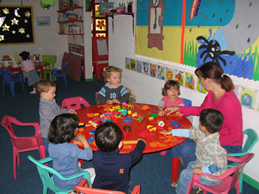 After playtime, we wash our hands and go back to the classroom where we enjoy lots of painting, sticking and colouring, and fun pastimes such as play-doh, threading, puzzles and shape sorting toys. We also enjoy learning numbers with our finger rhymes. After our picnic at about ten o'clock we have another outdoor play, then continue our crafts and activities. Our day ends with a short story, and sing-a-longs to our favourite nursery rhymes.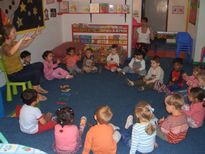 Teacher's comments -

The Ruby and Pearl Classes have an average of 22 children a day, aged between 21 months and 2 and a half years old. As well as myself there are 5 assistants in this class, giving an adult:child ratio of around 1:4. The emphasis in this class is on social skills and language development, and once the children are happily settled in we encourage them to share toys and develop friendships. Lots of creative activities are practised introducing texture and colours, as well as basic shapes and numbers 1 to 5. We work on a different theme, such as 'animals' or 'colours', each term, and this helps the children to develop their vocabulary.