Welcome to the Emerald Class. We are the "big guys" of our PreSchool, and we start our day with a story and discussion. Our teacher encourages us to retell the story in our own words, predict the ending, or offer alternatives, which helps with our pre-reading skills. A variety of table top activities are then set out for us, including arts/crafts, play-doh, cutting, puzzles, sorting trays, colouring, drawing and worksheets. We have a large floor space for construction materials and floor puzzles. The computer and sand/water play is always available for us to use, as well as the playhouse and dressing-up clothes.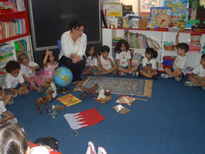 We have circle time twice a day, where we practice counting, recognising shapes and numbers, and days of the week. Our later session includes singing our favourite songs and experimenting with the percussion instruments. We learn the alphabet phonetically using the LetterLand method, which makes it lots of fun. There are lots of exciting books, tapes, videos and worksheets to go with it!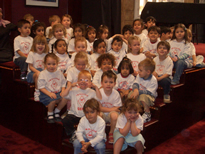 Each term we follow a different topic, ranging from 'transport' to 'living in Bahrain'. During circle time we discuss the current topic, sing appropriate songs and rhymes, and we often visit relevant places of interest. We particularly enjoy our trips to Al Areen Wildlife Park for our animal project, and a visit to the Bahrain Yacht Club to study beach life.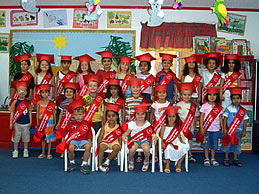 Our school year ends with a graduation ball for all the children who are leaving nursery school. The girls dress up in ballgowns and tiaras, and the boys wear their tuxedos! We have a sit down formal lunch of chicken nuggets and chips, and we make all our own table decorations. We dance to waltzes and disco music and have lots of fun!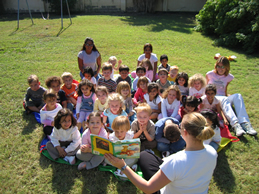 Teacher's comments -

The children usually begin the Emerald group when they are around 3 and a half years old, and remain with me until beginning their reception class in the primary school of their choice. There are usually around 30 children in this group, and there is an adult:child ratio of 1:5. The most important aspect of this class is encouraging the children's independence for the next stage of school, for example doing buttons and laces up, going to the toilet and washing hands unaided etc. Additionally, development of speaking and listening skills and levels of comprehension are of prime importance. By the end of the school year some children will have reading readiness, and may begin to read using the Ginn and Oxford Reading Tree schemes. It's a wonderful year, and the children usually have a very smooth transition from preschool to 'big school'.