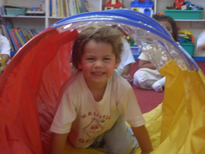 Welcome to the Diamond class. When we arrive at our PreSchool in the morning we sit down at the tables and play with the play-doh and some educational toys, and then sit down on the carpet whilst our teacher reads us some exciting stories. After story time we get down to work! There is a different activity set up for us on each table, with artwork, painting, free sticking, cutting and colouring combined with pencil control. We learn to take turns - while some of us are working others enjoy playing with the water and sand or completing puzzles. After work time we help to tidy up, line up, and go outside to play in the garden. When it's too hot we play inside the classroom with the bikes and small slide and other toys.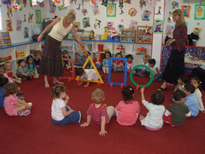 Now it's time to wash our hands and sit in a circle on the carpet; we call this "Good Morning Time". The teacher asks us to name shapes and colours, and we sing our shape songs. We like to sing lots of songs and nursery rhymes relating to the theme that we are working on, as well as our number songs. The teacher will then call out our names and say "Good morning". We put our hands up and say "I'm here!"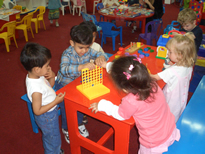 All this fun and hard work makes us hungry, so now we sit down and eat the snack that our Mummies have prepared for us. After snack time we're allowed to watch a nursery rhyme or Letterland video whilst our lunch is packed away. We have one more work time where we get to finish all our work for the day, and then we have free play in the class with most of the toys and the playhouse. At the end of the morning we help to tidy up the classroom, and then sit on the carpet and sing our favourite songs until Mummy or Daddy arrives.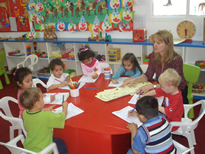 Teacher's comments -
The children in the Diamond group are aged approximately between 2 and a half to 3 and a half years, and we have an average of between 25 and 30 children in the class every day. Including myself there are 6 teachers/assistants, which allows for an adult:child ratio of 1:5. This class is slightly more structured than the Ruby class, and using a thematic approach the children enjoy working with numbers 1 to 10 and learning colours and shapes. The recognition of letters is introduced using the characters from Letterland, and lots of opportunity is given to develop fine motor skills and pencil control.